Continuous Inkjet Printing
Ax550i
Speed, accuracy, and the ability to perform in tough and varied environments give the latest Domino Ax-Series continuous inkjet printers unique technological advantages.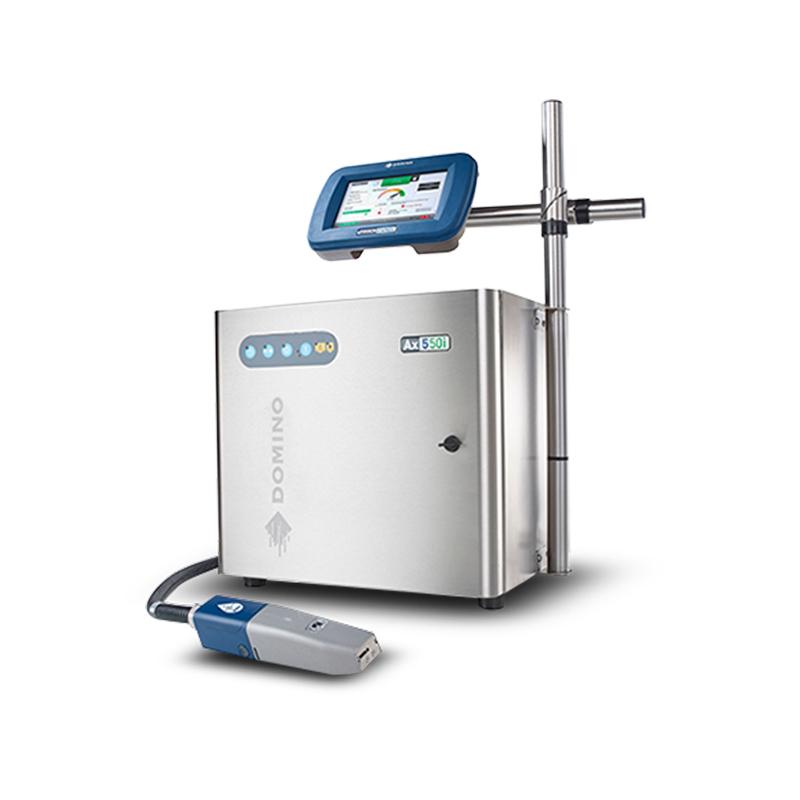 New CIJ Technology
Precision and flexibility from a printer that handles harsh manufacturing and packaging environments
For coding in harsh and more demanding environments, Domino's most advanced CIJ printer – the Ax550i – comes in a tough package. Its robust and stackable cabinet is made from marine grade 316 stainless steel, which is not only dust-tight but – with an IP66 rating – can also withstands washdowns, high-pressure water blasting, and chemicals used during heavy-duty cleaning. The Ax550i's range of printheads includes the i-Pulse RS printhead, which offers high levels of durability and hygiene.The extensive i-Pulse ink range includes MEK-free and highly-pigmented options, as well as specialised inks for direct food contact, sterilisation, wet glass bottles, and many more industry-specific requirements.The powerful Ax550i benefits from the i-Techx electronics platform and provides a class-leading user experience on a range of touchscreen sizes. It is fully compatible with Industry 4.0 standards, with Domino Cloud, and Domino Automation systems and third-party production systems – all with the aim of empowering production team members to drive improvements through remote diagnostics and monitoring. Domino's top-of-the-range CIJ printer, the Ax550i is ideally suited to high-end beverage, food, and consumer goods product and packaging applications.
High-performance machines, designed for harsh environments such as the i-Tech A520i, A300+ and A300SE+ variants are replaced by the Ax-Series Ax550i CIJ printer. With 316 grade stainless steel and IP66-rated sealed electronics the Ax550i is ideal for food and beverage applications. High-speed data processing capacity enables promotional variable codes in human- and machine- readable formats.


Domino's i-⁠Pulse print head Next-generation technology i-Pulse print head with precision ink drop generation.
Domino TouchPanel
Choose intuitive between a 7 or 10inch touch panel for ease of navigation
Accuracy and speed in tough environments