Thermal Inkjet Printing
G20i
Designed for use on challenging substrates, our intelligent, high-resolution modular Gx-Series thermal inkjet printers are simple to install, maintain, and use on your production line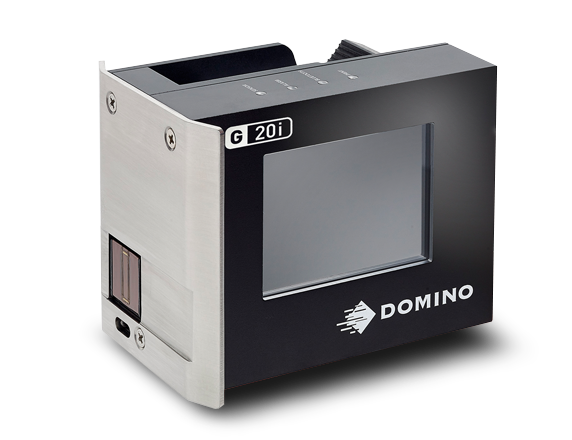 New TIJ Technology
Simple to install. Simple to configure. Simple to code.
The Domino
G2
0i is a compact, cost attractive, all in one, easy to set up and use, single sided Case Coder ideally suited to data and text coding on outer case secondary packaging. It is designed for straightforward self installation, set up and use without technical knowledge. The Thermal Inkjet print head provides sharp, high resolution codes on a variety of substrates without ongoing maintenance or support requirements. The
G2
0i is the entry level, one sided box coding solution for outer case coding. Installing the
G2
0i is quick, simple and requires no technical expertise. Everything you need is included with the package. The system is self-installed. Cartridge change is a simple, less than 20 second operation without any technical skills or tools.
Domino developed inks – optimised for great performance
We use our extensive experience to develop and manufacture our range of G-Series inks to surpass the users' requirements and guarantee consistent high quality coding. Our inks for outer case coding are designed for a wide range of materials such as carton, paper and many more.
Flexible: you can print combinations of barcodes, logos and alphanumeric messages
Reliable: clear codes even after extended production line stops
Lasting quality: adhesion and contrast ensure excellent code clarity and durability throughout the supply chain
Cost effective: low ink consumption and maintenance free operation deliver a low total cost of ownership
To find out more about Domino Printing's G20i case coder, visit our dedicated support page here.



Explore the G20i Discover the benefits of the G20i.
Case Coding with the G20i