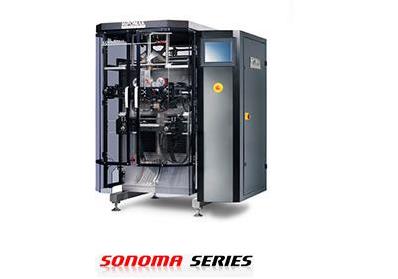 Sonoma CH250/CH350 Series – Vertical Form Fill Seal
The new Sonoma Series are modular high performance continuous motion vertical form fill and seal machines for traditional and fragile products. Continuous motion is a generic term that is used for various different motion technologies in the packaging industry and carries the meaning of mechanism that constantly movingwithout pausing. It is tested at the speed of 200 mechanical cycles per minute. The novelty of the continuous sealing system is that enables 100% hermetic seals to be obtained at high speeds and reduces the possible negative effects of the impact of the product falling against closed sealing jaws, or the seal itself, that can occur on standard intermittent machines. It is preferred not only for its speed but for preventing product breaking also.
Main Features
Continuous motion system
Parts in contact with product in AISI 304 stainless steel
Various Types of Bags, pillow, gusset, block bottom, string bags etc.
Main machine movements (horizontal sealing group and film driving group) are driven by means of independent brushless Servo motors.
Motion-controller system is only one controller capable of coordinating all the servo motors, all the inputs-outputs, all the control functions of the line, replacing the PLC.
Continuous Vertical and Horizontal Sealing ensure 100% non-leakage and smooth sealing
12" industrial PC man-machine interface (Diskless, Fan-less, low power) that uses a Microsoft Windows XP Embeddedoperating system with capability of remote access through internet and software updating easier. Extremely simple and easy to manage all machine parameters.
P.I.D Heating System provides precision and stable horizontal and vertical heat sealing.
Film Cut-off is controlled by photo eye on registered film or by incremental encoder on neutral films.
Auto-Film Centering System adjusts independent roll support to center the film on the tube collar automatically.
Out-of-filmSignal with automatic stop of the machine and quick connection between the finished roll and the new roll.
Auto Film-Unwinding Unit controlled by expansion type reel-holder shaft with independent motor
Self-Centering Drive Belt controlled by adjustable pneumatic pressure feeds the Film precisely.
Film Tension Sensor indicates sufficient film tension.
Dancer Arm Roller provides continuous smooth tension for continuous bag forming and registration.
Safety is obtained by Automatic stop of the machine in case of incorrect closure of the safety doors or operation malfunction, with message on the display Screen.
Different Filling Systems Adaptable for Multi-head Weigher, Linear Weigher, Volumetric Dosing, Auger Filler, Piston filler etc.
Wrapping materials; Polypropylene, laminates and coupled materials in general, barrier film, water-soluble film, film of biological origin, and other heat sealing materials such as polyethylene.
Suitable for CE standarts
OPTIONAL FITTINGS/EQUIPMENTS
Adaptable for different sealing systems such as; impulse sealing, carrier handle bag, easy-open bag, euro-slot bag, round hole bag, string bags, straight cut, tear notch cut, and zig-zag cut.
Side Gusseting System for producing squared bottom bags.
Vacuuming Supported Belts (extend belt life time and exceed speed of the machine up 15%)
Gas Flushing System.
Air conditioning on the control cabinet.
Static Eliminator.
Printer.
Auto Splicing Unit.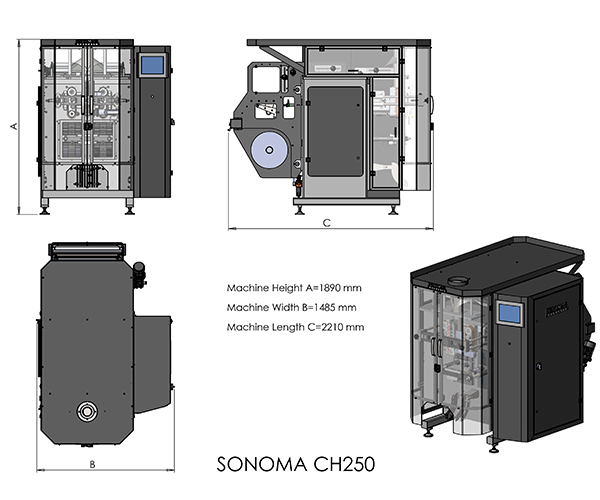 | Dimensions | CH250 | CH350 |
| --- | --- | --- |
| Width | 1485 mm | 1585 mm |
| Length | 2210 mm | 2210 mm |
| Height | 1890 mm | 2075 mm |
| Weight | 1200 kg | 1350 mm |
| Technical Data |   |   |
| Mechanical Speed (Bag/min) | 200 | 180 |
| Operational Speed (Bag/min) | 130 | 110 |
| Bag length (Min. – Max.) | 40 – … mm | 40 – … mm |
| Bag width (Min. – Max.) | 30-240 mm | 30-340 mm |
| Reel Outer diameter | 400 mm | 400 mm |
| Reel Width | 700 mm | 900 mm |
| Power Requirement | 8 KW | 9 KW |
| Voltage requirement | 380V 3 Phase 50Hz | 380V 3 Phase 50Hz |
| Air Requirement | 150 lt/min. | 150 lt/min. |
| Air pressure (Min.) | 6 Bar | 6 Bar |